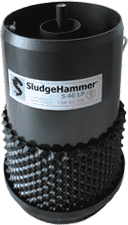 The SludgeHammer S-46 LP is a residential operating unit for low-profile tanks which oxidizes the soil in your septic tank to keep it functioning like it should.
All SludgeHammer systems designed for residential use fit into existing septic systems. No new tanks or retrofits are necessary-just a small air pump and the SludgeHammer system to let nature do what it does best.
SludgeHammer systems installed into residences with already clogged traditional septic systems have effectively cleaned up and remediated their old systems. Instead of needing to entirely rebuild a septic system, installing a SludgeHammer unit allows homeowners to revitalize their septic systems at minimal costs
Specifications:
Column diameter at top: 12″

Column diameter at base: 15″

Total height: 18″

Total weight: 28 pounds
Call SludgeHammer for specs and special orders.