Onsite Installer Magazine Features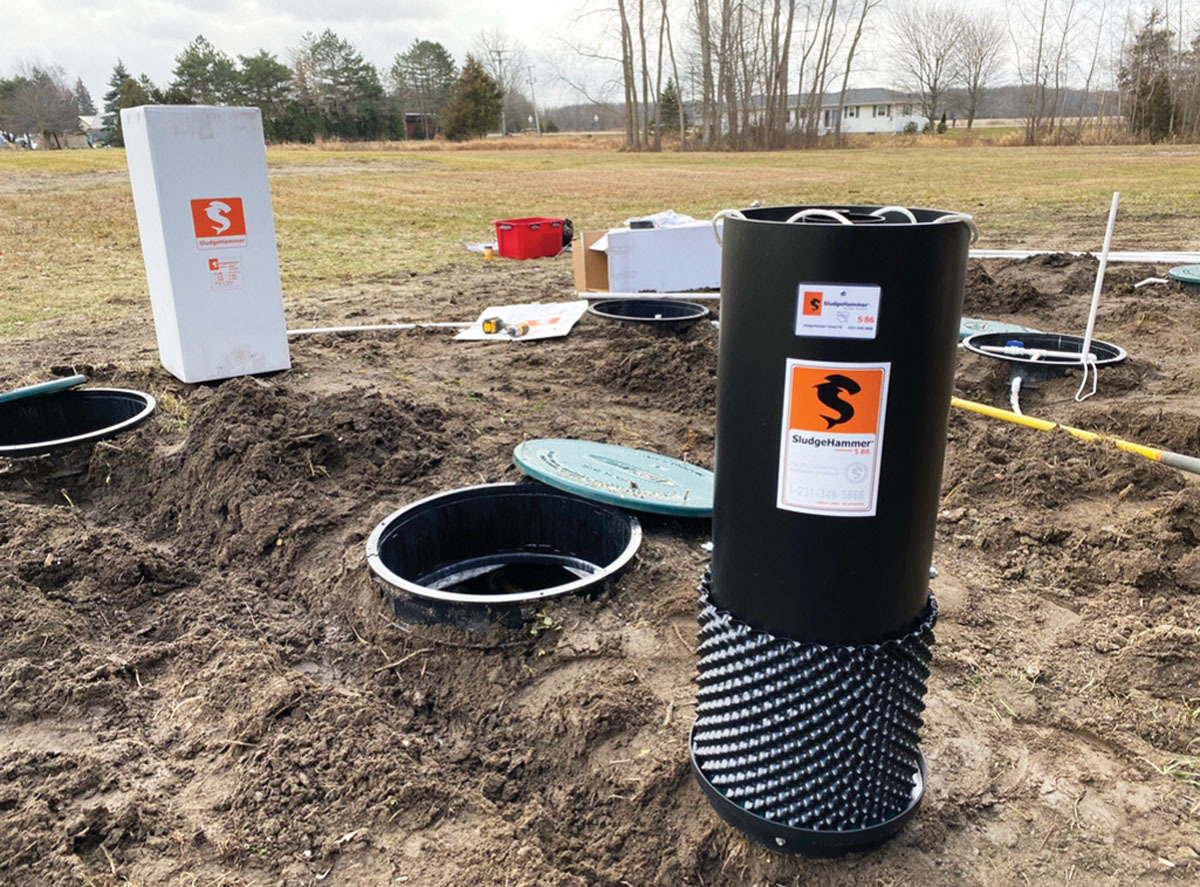 Preserving infrastructure during remediation of restaurant treatment system
SludgeHammer Saves the day once again!
Problem: The McDonald's restaurant in Chesaning, Michigan, utilized an ATU system followed by a sand filter and leach bed. After more than a decade of high-strength restaurant load, the leachfield and sand filter both failed.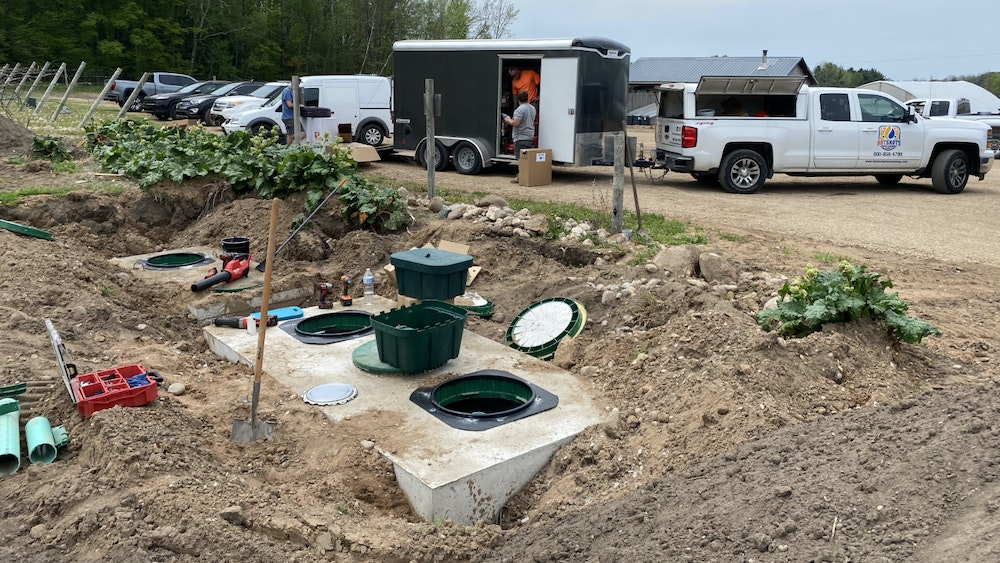 Treatment System Remediates Leachfield
A case study from the Large Scale Commercial Treatment Series.
Problem: Pond Hill Farm, a popular spot on Northern Michigan's fall color tour, faced a public relations nightmare when its annual pumpkin festival was ruined by a septic failure. The pumpkins were sitting on their leachfield, and a surface breakout contaminated the pumpkins, forcing the health department to issue a pumpkin recall. The farm wanted to prevent a similar situation in the future.
Advanced Treatment Suitable for Waterfront Property
SludgeHammer saves valuable lakefront property for later sale or development.
Problem: A lakefront property in Cheboygan County, Michigan, had a leaking septic tank and failed leachfield contaminating the beachfront. The option seemed to be putting in a new system and moving disposal across the street on another property, requiring cutting down trees and building a mound. The cost would be high and the owners would lose the opportunity to sell the mound site.
Solution: During the site visit SludgeHammer personnel observed a beautiful landscape feature in front of the house. It was a mound with trees, shrubs and flowers that had been creatively designed by a landscape architect. A regulator on the visit suggested that if the soil in the mound was good, and it was already higher than groundwater separation required, using the mound for disposal would be fine. Since SludgeHammer advanced Treatment fits into standard septic tanks, a local tank manufacturer was able to install them. An Advanced S-86 unit was installed, and a drip-irrigation system was woven through the vegetation in the mound, with a drain-back to prevent freezing in winter. 
Michigan's Dig-It Excavating Lobbies to Get a Lakefront Homeowner off the Holding Tank
Tiny cottage lot with impossible setback issues spurs a training day featuring an aerobic treatment solution
The job site near Paw Paw, Michigan needed a different approach because of its proximity to the lakeshore and to a neighboring property. A SludgeHammer unit combined with Geoflow dripfield solved the problem.
After three months of operation the system was producing effluent with:
BOD of 9 mg/L (NSF-40 reduction standard is 25 mg/L or less). 
TSS of 26 mg/L (NSF is 30 mg/L or less).
Total inorganic nitrogen of 3.04 mg/L (NSF is 30 mg/L or less)
The results were great but not unexpected because other SludgeHammer systems show similar results, Dervin Witmer, owner of Dig-It Excavating, says.
The health department sanitarian was quite right in saying that a lot of contaminants are going into the lake, says Witmer. "If we would encourage alternative technologies like this, that have very clean effluent, you're only going to come up with cleaner lakes as a result."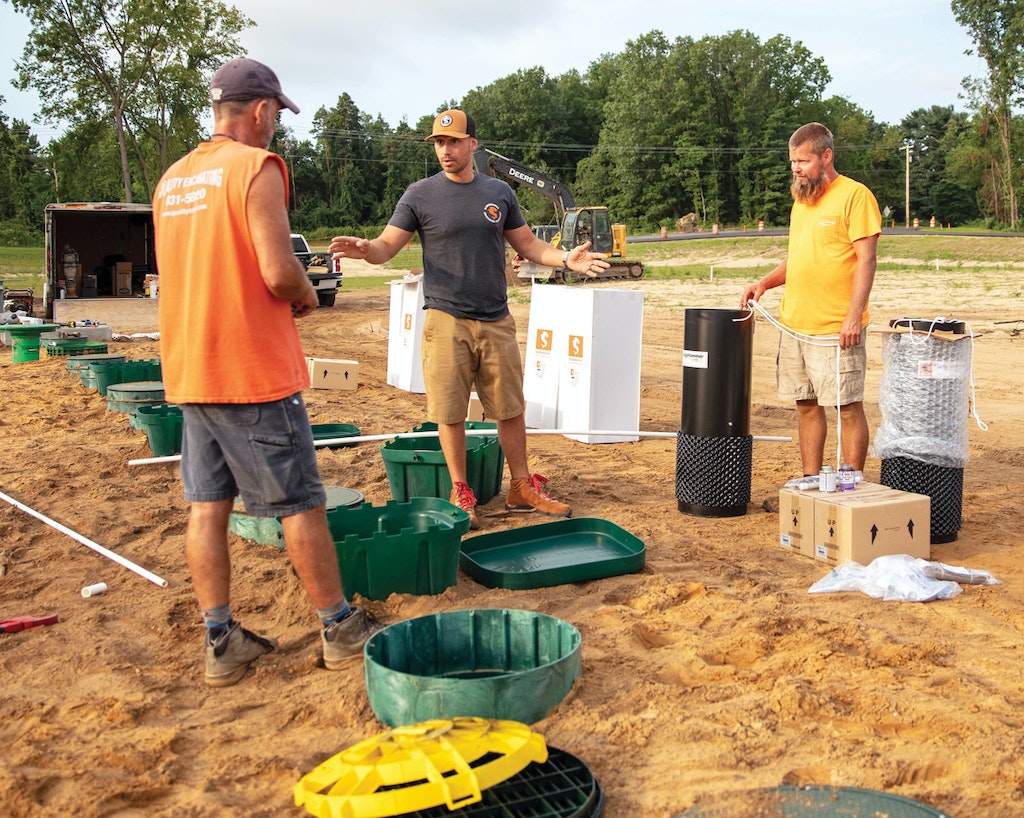 Engineering a Wastewater Solution to Serve 250 Workers
A new Indiana RV factory with serious flow requirements called for Aerobic Bacterial Generators, large tanks and a significant drainfield area
An RV manufacturer needed an approved onsite design before constructing a new factory in Middlebury, Indiana. The architect and engineering firm hired Stuart Meade, owner of Meade Septic Design in nearby Goshen, for the project.
Based on 250 employees, the state Department of Health estimated a design flow of 5,500 gpd. Meade's challenge was to design a system that maximized the undisturbed 22-acre lot for storing chassis, finished RVs and supplies.