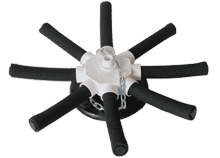 The Tank Bottom Diffuser's membrane is 1", with an OD compound extrusion and an active surface area of 113 inches squared.
The Tank Bottom Diffuser is designed to be added to septic tanks in association with the SludgeHammer to inexpensively provide extra oxygen in systems where that is needed.
Installation of the Tank Bottom Diffuser can be done using an individual air pump to pressurize a single diffuser or as part of an air delivery manifold. The air delivery rate to the Tank Bottom Diffuser should be in the range of 1-3 CFM.
Specifications:
Diameter: 1"

Circumference: 3.14

Length: 4.5 per leg/ 36" total

Surface Area: 113 inches squared
Specifications:
Diameter: 1"

Circumference: 3.14

Length: 4.5 per leg/ 36" total

Surface Area: 113 inches squared